LAUNCH!! IT'S HERE, THE OUT OF THIS WORLD – LIMITED EDITION Z!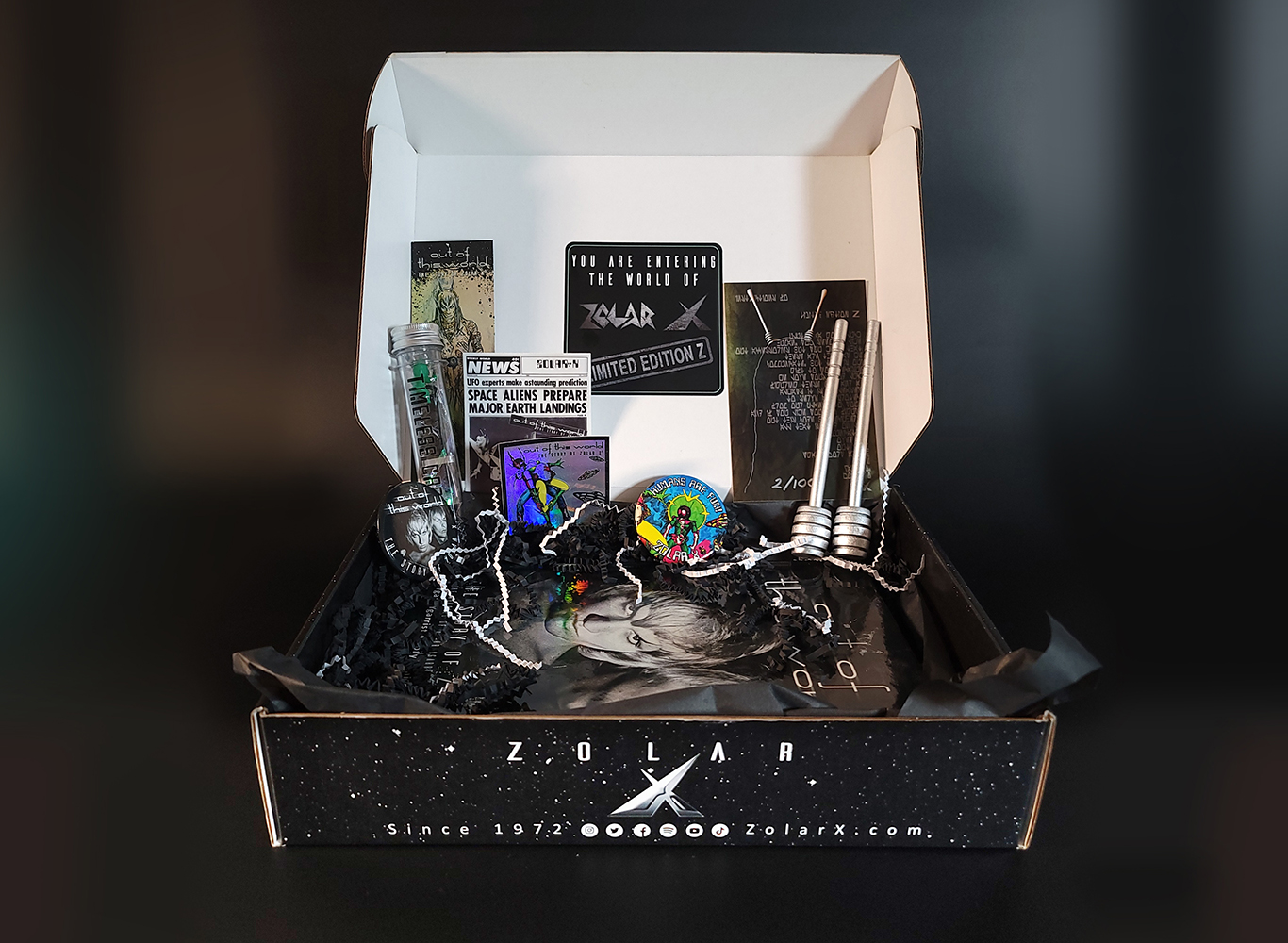 With the collector in mind, we've assembled elements that capture and represent Zolar X, from the band's beginning to present day. It is part of Rock 'n Roll history - only 100 available and the first 50 purchases will receive a vintage Zolar X sticker from 1982. This is the last roll that I have left.
Thinking back to 1982 and as I say near the end of the book, in preserving the music, "I wanted the album to be called Timeless…I wanted the music of Zolar X to be preserved and not be lost to oblivion. I knew there were photos of us floating around the planet that painted a picture of four spaced-out weirdos but there was no music until now. I had changed that!"
And from 2013 to 2022 we wrote Out of This World and presented it to planet Earth so the story wouldn't be lost. As the launch got closer, we realized we wanted to also create a way for those who "got Zolar X" or those who are collectors to be able to have what we hope will be thought of as the ultimate Zolar X experience.
- Hardcover book (90lb premium paper) Limited Edition Z printed inside the book
- Specially designed and created collectible box that contains all elements 
- Numbered Certificate of authenticity 
- Signed author's card from Ygarr Ygarrist, Zory Zenith and Raidii X 
- Timeless Capsule in a black velvet pouch (ZX flash drive with 2 GB content suspended in a test tube complete with a Zolar X tiny baby). It includes 22 audio files (vintage rehearsals and unreleased material), 167 photos (some never-before seen), and many are from the book in color and 21 videos-again, many never have been seen. 
- Recreation of the Zolar X vintage antennae with wire and instruction in Zolarian of how to assemble and wear in a black velvet pouch 
- Numbered reissue of Zolar X first show flyer (7" x 10") 
- Numbered "Humans are Fun" button
- Holographic sticker based on the artwork of Armando Norte
Bonus items but not exclusive: Double-sided bookmark created from Armando Norte and Raidii X artwork. OOTW button (book cover art) and OOTW sticker (based on vintage flyer).

OUT OF THIS WORLD DELUXE BOXT SET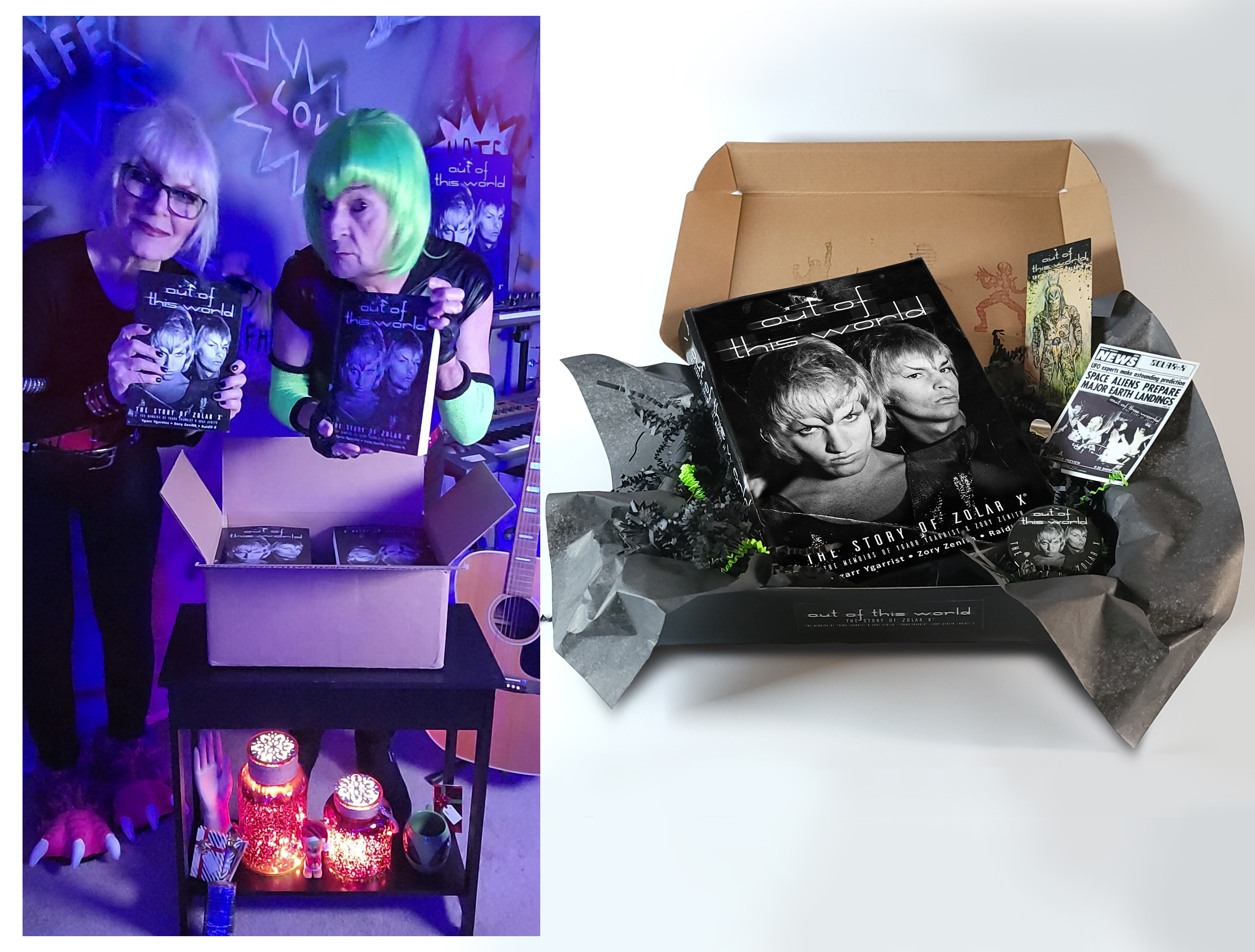 The paperback - now available around the globe. See links below.
OOTW Deluxe Box Set - only available from Zolar X on this website in our store.
Authors Ygarr Ygarrist, Zory Zenith, and Raidii X
Almost a decade in the making and 50 years since the birth of the band! We wanted to get the story down - the real and complete story - tell the yarns and let you see, hear, and feel, firsthand, what it was like, how the band came to be, the near misses and the times we nailed it. This is the Zolar X bible, a comprehensive, factual account from three of the members who lived it.
Come along for the ride! 
Amazon US: https://www.amazon.com/dp/1735367680
Amazon UK: https://www.amazon.co.uk/dp/1735367680
Amazon SE: https://www.amazon.se/dp/1735367680
Amazon NL: https://www.amazon.nl/dp/1735367680  
Amazon DE: https://www.amazon.de/dp/1735367680
Amazon FR: https://www.amazon.fr/dp/1735367680
Amazon ES: https://www.amazon.es/dp/1735367680
Amazon IT: https://www.amazon.it/dp/1735367680
Amazon PL: https://www.amazon.pl/dp/1735367680
Amazon JP: https://www.amazon.co.jp/black-curtain/black-curtain?ie=UTF8&returnUrl=%2Fdp%2F1735367680
Amazon CA: https://www.amazon.ca/dp/1735367680
Amazon AU: https://www.amazon.com.au/dp/1735367680
"

The first-hand recounting of their exploits is recalled in vivid and entertaining detail, which immediately draws you in, and makes it difficult to stop reading. I strongly recommend this book and encourage you to check out their music as well. It will be time well spent! " - Bill Billard
— PNX News
"

All the bands that came up when my first band Silverhead was arriving on the planet seemed to be inspired by the usual iconic artists like the Rolling Stones and the New York Dolls. Zolar X was literally from another planet. " - Michael Des Barres
"

The space-age haircuts sparked something extraordinary—they changed us. Our new hair style allowed us to discard old-fashioned ideas and constraints. The floodgates were open and a new dawn had begun." - Out of This World - Ygarr Ygarrist