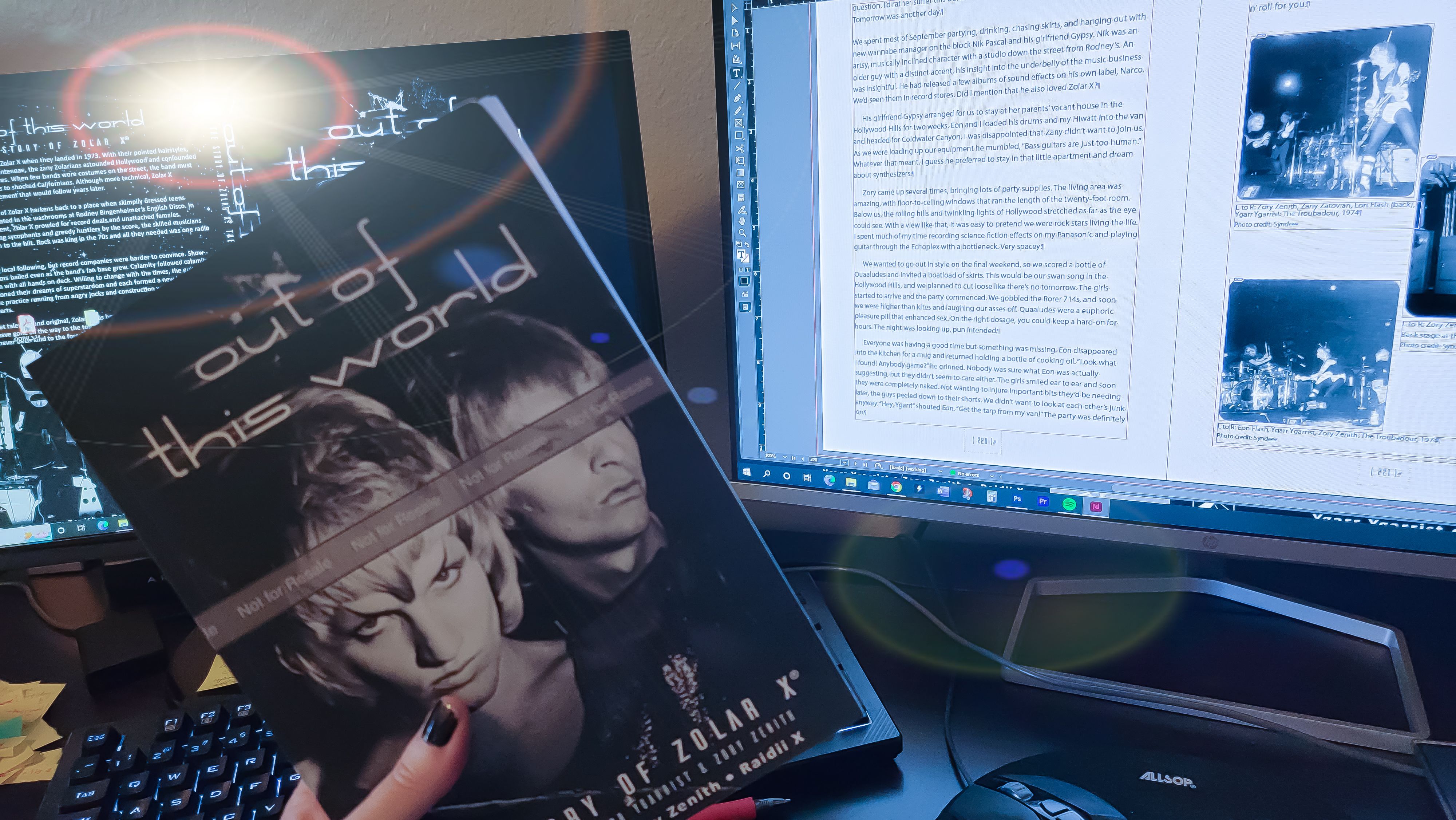 Proofing copy of Out of This World
The book has been nine years in the making - writing with a mission! We wanted to get the story down - the real and complete story - tell the yarns and let you see, hear, and feel, firsthand, what it was like, how the band came to be, the near misses and the times we nailed it. We have a feeling it is going to be known as the Zolar X bible as it is very comprehensive and takes the reader all the way to the present. 
Ygarr had created an extensive outline a few years ago which served as a foundation, and we also worked from 10-plus hours of audio recordings of Zory Zenith that were captured through the years. And there were countless phone calls to the Bot when we needed to hear his take on a memory or we needed that "tone", the mime voice that only the Bot does. Raidii interviewed, transcribed and helped to weave it in the telling-her creative writing background was invaluable. 
Nearing the finish line, we had the great privilege to work with Chris Walter who was our editor ou (#1). We also worked with Michael Essington, editor tay (#2) who proofed the book. There are many others who enlisted to be cadets and helped with reading, proofing, adding valuable feedback. We are self-publishing through Amazon and can't wait for you to read it. We will have a launch date in the next few weeks so make sure you are signed up for our mailing list. Those xemiz (friends) will be the first to know. 
Nok voo 
Ygarr Ygarrist & Raidii X
"

The first-hand recounting of their exploits is recalled in vivid and entertaining detail, which immediately draws you in, and makes it difficult to stop reading. I strongly recommend this book and encourage you to check out their music as well. It will be time well spent! " - Bill Billard
— PNX News
"

All the bands that came up when my first band Silverhead was arriving on the planet seemed to be inspired by the usual iconic artists like the Rolling Stones and the New York Dolls. Zolar X was literally from another planet. " - Michael Des Barres
"

The space-age haircuts sparked something extraordinary—they changed us. Our new hair style allowed us to discard old-fashioned ideas and constraints. The floodgates were open and a new dawn had begun." - Out of This World - Ygarr Ygarrist